Socks, either thigh high or knee high help spicing up any outfit. They are a flexible fashion accessory that complements every type of body. You can wear the same pair of stockings every day yet create a totally alluring outfit. To look your best; consider the shape of your legs before choosing socks. Some legs carry knee high socks better than thigh high socks whereas some look good either way. But before we go on choosing which socks is suitable for you, let's take a quick look what are the differences and the similarities between thigh high socks and knee high socks.
---
Estimated reading time: 9 minutes
---
What Are The Differences?
Thigh High Socks – Thigh high socks are garments with an elastic band at the top worn to cover the feet and legs up to the mid-thighs.
Knee High Socks – Knee high socks refer to a type of legwear that protects your leg from the toes and outstretches the knees.
Both socks are typically fashion accoutrements for either casual and formal wear.
You can put them on and still look professional for corporate events. Or you can also make it fun and funky with bold and striking colors.
They are usually worn by women but there are also men who wear high socks made with different materials. High socks for women are usually made of nylon. They vary in styles, colors and transparency.
---
---
Benefits of Wearing Socks
According to Vogue, knee high socks are making their comeback in fashion industry. It's the best time to rock this style!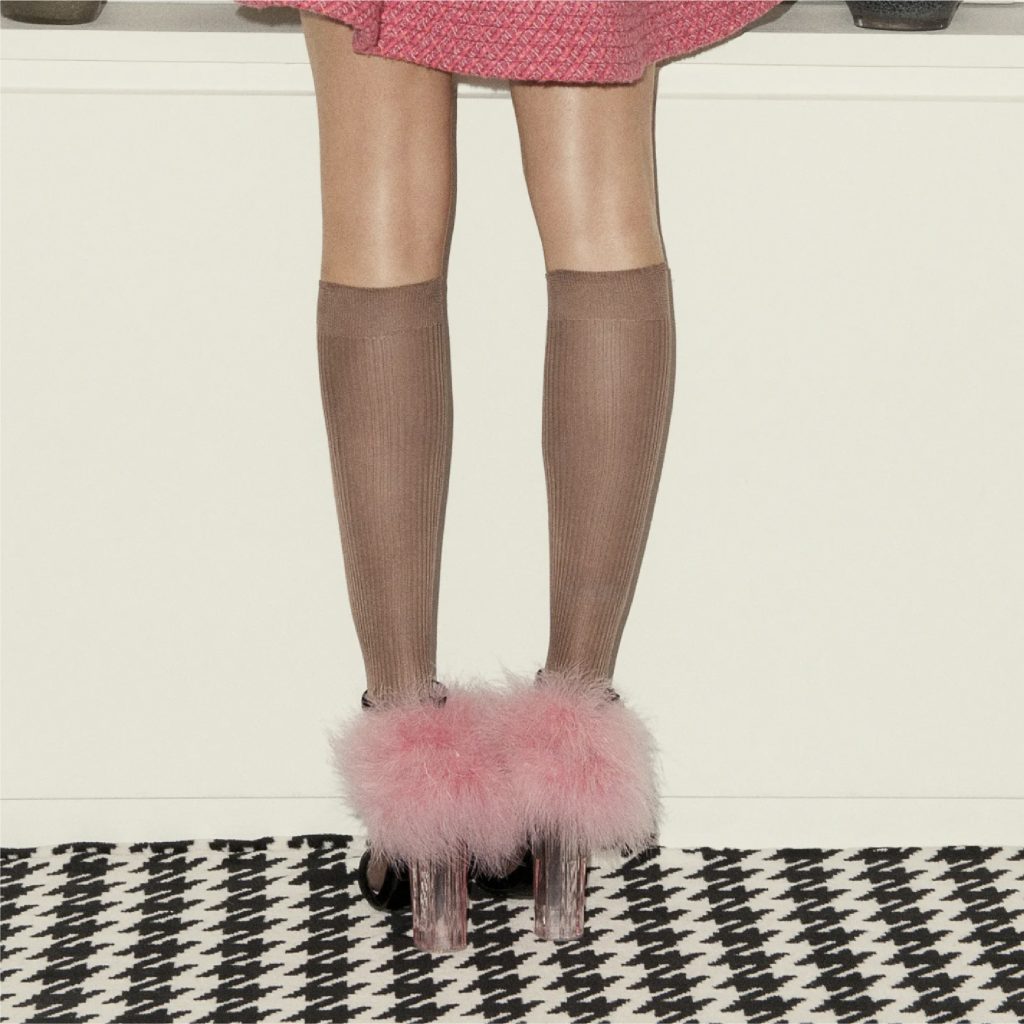 Thigh high socks and knee high socks can be worn all year round.
They keep your body warm during the cool seasons. While on warmer months, they help your body dry from perspiration and provide sufficient airflow so that you will feel comfy in your outfit.
Apart from that, socks also allow creativity and help you build your favorite layered outfit. You can play them around with different fashionable skirts, dresses and an oversized sweater. Not to forget those high heels, flat shoes or lace-up combat boots too!
Thigh high socks and knee high socks are a great medium to ensure structured clothing that prepares your personality for environments that respect dress codes such as the office or formal gatherings.
However, they demand you to be clever when making a choice between them both. Falling for the wrong counterpart can make you look childish and bulky.
For instance thigh high socks are good to skim the muscles and fat whereas knee high socks make lean legs look perfect.
---
---
Choosing

between Thigh High Socks and Knee High Socks
So, how do you choose which pair of socks to wear? Let's dig into it.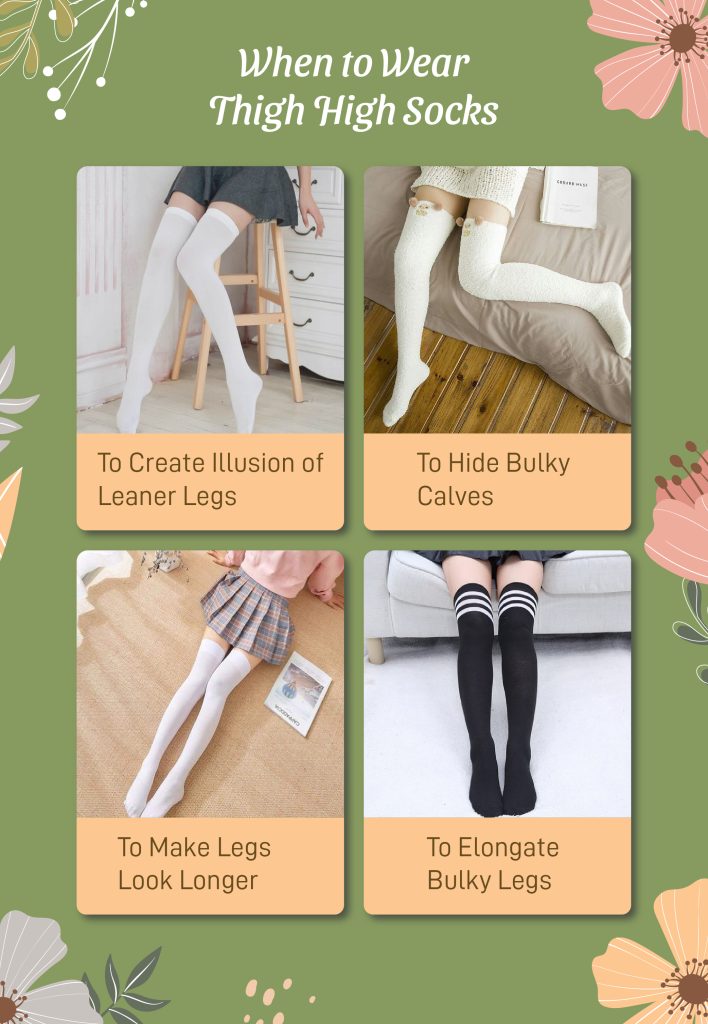 When to Wear Thigh High Socks
Here are some guidelines on when you should wear thigh high socks. Pay close attention to some recommendations of colors and texture on the thigh high socks provided below.
1. To Create Illusion of Leaner Legs
These are a good option if you have muscular legs. They flatten the bumps and create an illusion of leaner and long legs.
Thigh high socks can modify your leg curves. Hence making your legs look more attractive and slender.
2. To Hide Bulky Calves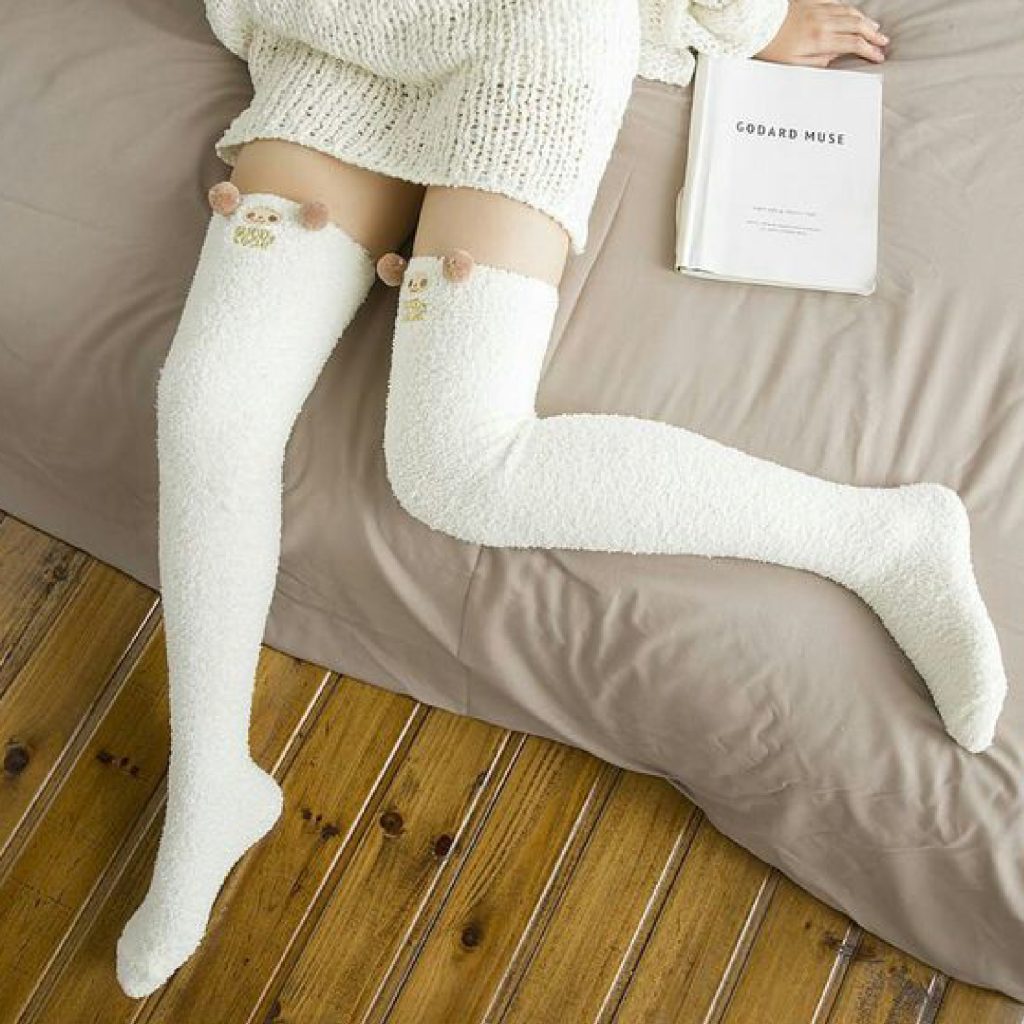 Thigh high socks draw the eye upwards and away from the bulky calves. Go for black or darker colors to keep the attention away from your bulky legs.
Since our eyes are drawn to lighter colors, wearing a lighter outfit will do the trick well. It creates the contrast between the top and bottom thus direct people's eyes upwards.
Plus, black or darker color thigh high socks are easier to mix and match with any outfit. These type of colors blend and balance any attire.
---
---
3. To Make Legs Look Longer
Thigh high socks are recommended to women with short legs since they cover more than 80% of your legs where the rest of your legs is covered by your skirt or shorts.
Pick shoes that have the same color as your thigh high socks. The monochromatic appearance from these two pairs forms a clean line that makes your legs look longer.
4. To Elongate Bulky Legs
Thigh high socks have a slimming effect. Yes, it does! Especially the ones that match the tone of your skin. They help elongate bulky legs.
Stick to soft woollen thigh high socks with rib knit patterns to visually slim down your legs. These kinds of pattern offer some of the best illusion for trimmer legs.
---
---
When to Wear Knee High Socks
Prefer to put on knee high socks? Take a quick look at these considerations to level up your games with this kind of socks.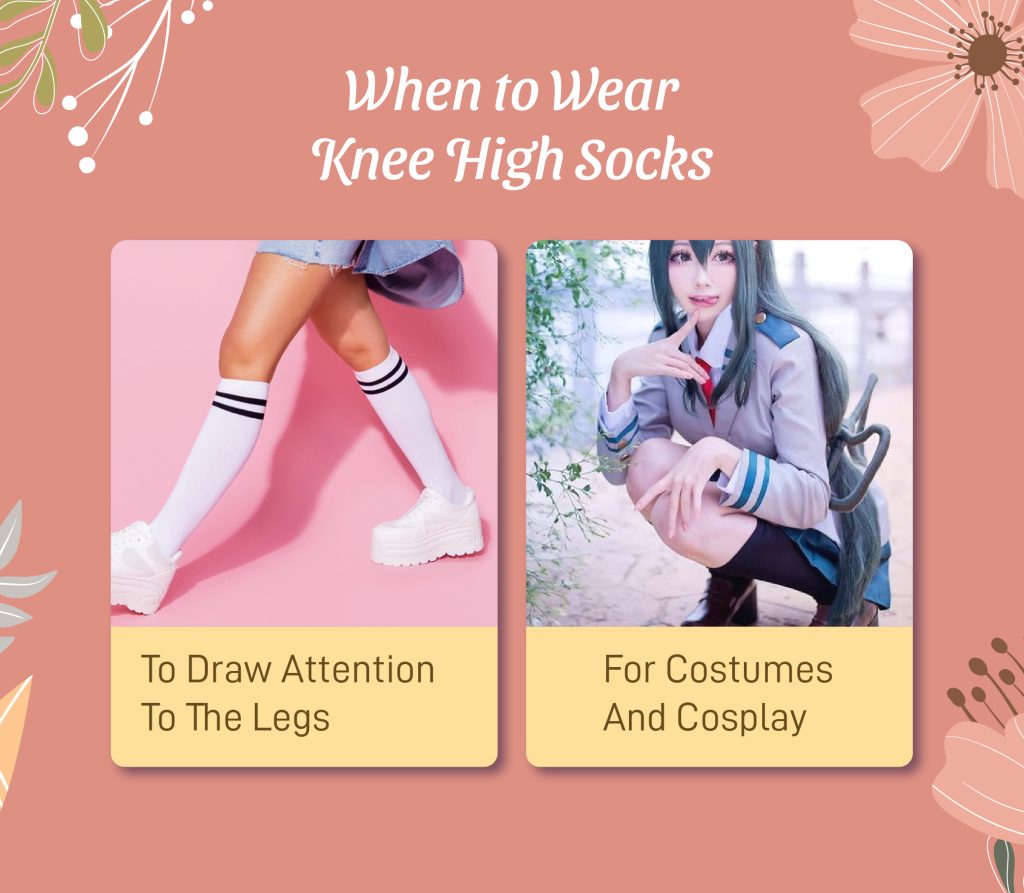 1. To Draw Attention To The Legs
Knee high socks are chic and trendy. They may be a school girl's choice yet a preferred street style of many. Show off your personality with wacky and unusual designs.
Stripes, dots and quirky cat design or any random prints can flaunt your quirky personality and unique look. You will look pretty much different from anyone else. These eccentric designs will definitely make people stop and stare!
Knee high socks draw attention towards your calves as the hem sit just exactly where your legs meet the knees. Legs that are straight and lean look best with both socks.
2. For Costumes And Cosplay
Knee high socks are a complement to uniform costumes and cosplays. They usually come in a variety of fashion designs that can easily match any kind of uniforms or cosplay costumes.
Since knee high socks are available in many different styles, they are must-have fashion accessories in your wardrobe. If you want to stand out, pick bright shades knee high socks like orange, yellow or red to add a pop of colors to your appearance.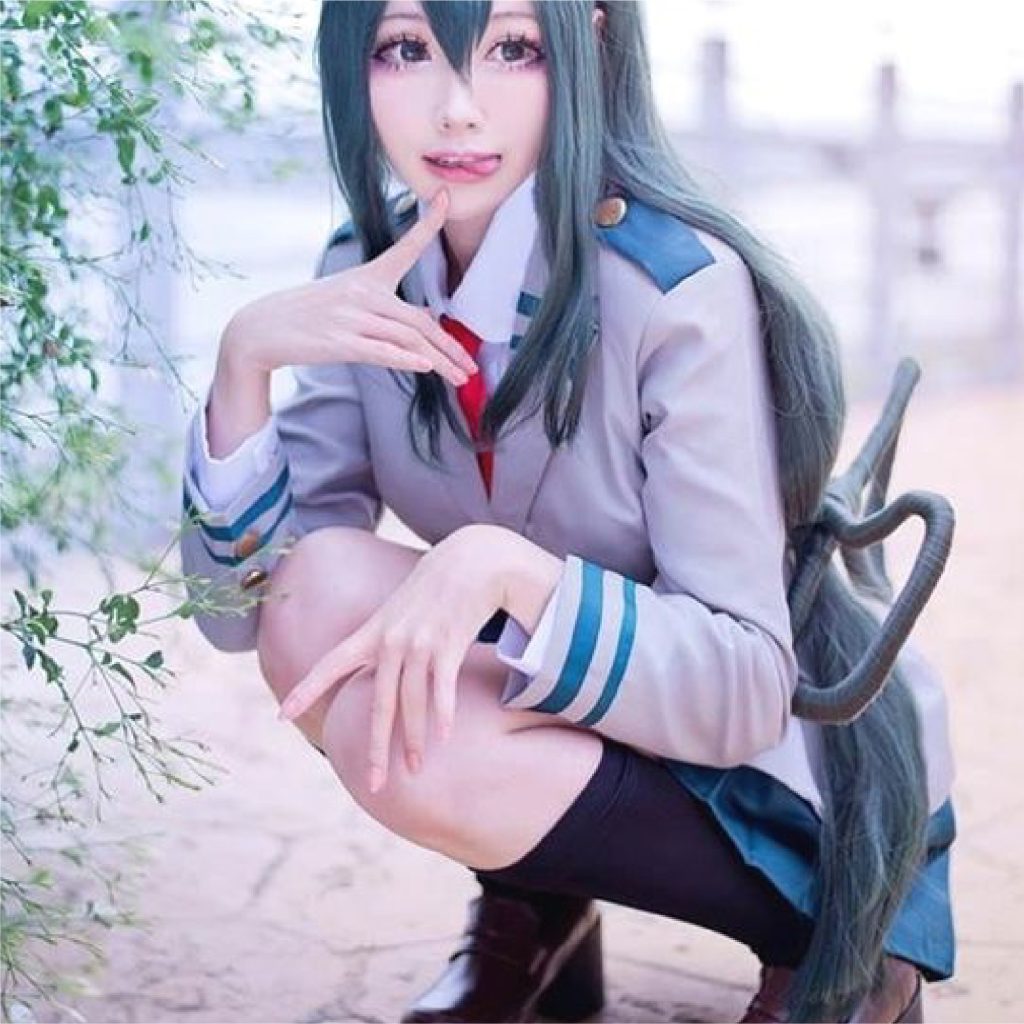 High socks are very versatile. You can pair it with almost anything and still get away with an astonishing look. However, you still have to plan your outfit carefully to avoid looking cheap or trashy.
---
---
Conclusion
Some may associate high socks with schoolgirl uniform. But if you style them with appropriate attire, they can create sophisticated and classy looks.
Though it is a personal preference, following unanimous fashion assessments will help you build your wardrobe using tights and socks wisely. So between thigh high socks & knee high socks, do you know how to choose the right socks for you now?
---
---
---
Read More: