If you are a Potterhead or even a cosplay beginner looking to find Harry Potter costume ideas, you may find this article helpful.
Halloween is the only time for Potterheads to dress up like one of their favorite Harry Potter characters and get away from getting weird looks from people on the street.
And did you know? Harry Potter costumes have been always a popular option during Halloween days. Who can deny the magical wizard and witch aura at those times?
---
Estimated reading time: 15 minutes
---
What To Consider Before Getting The Right Harry Potter Costume?
There are a lot of stores – online or mortar and brick – that sell Harry Potter costumes. Let's check out what you should know before purchasing your outfit.
Choose Your Character
Whether it is Harry himself, Ron, Hermoine or other characters like Dumbledore, Snape, Voldemort and Dobby, there are unlimited choices of characters you can cosplay on. It really depends on who you want to be.
Once you have chosen what character to portray, comes the next step.
DIY First, Buy Later
Let's say you want to do Harry Potter cosplay for this coming Halloween. Make a checklist of Harry Potter's details such as glasses, lightning bolt on the forehead, white shirt, black pants, red and gold tie, black robe and red cardigan.
If you already have these items at home, reuse them. Draw the lightning bolt on your forehead using an eyeliner. Pick a thin stick from your backyard, and there you go. A magic wand!
But, if you couldn't find any of these items around your house, it's time to visit the costume stores.
Find The Best Harry Potter Costumes
Looking for the best Harry Potter costumes can be an adventure, especially when purchasing them online. Before you add the items to the cart and click check out, be sure to:
Check the store's reputation – simply refer to the reviews left by other buyers. If there are too many bad reviews, best to stay away from that store.
Read the product descriptions – Make sure you know what you will be getting from the store. Don't just look at the pictures. Read the descriptions carefully to avoid misunderstanding.
These are the details that you should keep your eyes on:
Size and measurement
Color choices
Quantity of the product
Additional accessories
Fabric used
Realistic details on the products
10 Best Harry Potter Costume Ideas
Now, to help you with finding the best Harry Potter cosplay, we have come up with a list of affordable costumes and accessories for you to check out.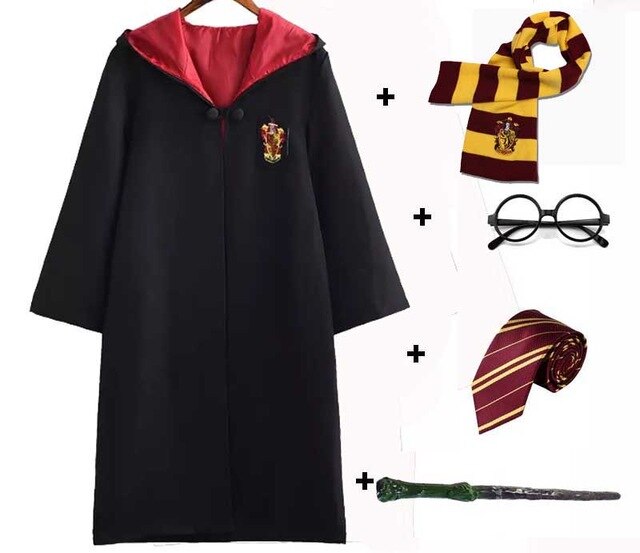 Harry Potter Cloak Costume & Accessories Set (For Kids & Adults)
Looking for a high-quality Harry Potter costume might be an adventure. But with this Harry Potter cloak costume and accessories set made for both kids and adults from Animee Cosplay will not let you down.
The cloak costume is thick and loose enough to imitate the real robe worn by the Harry Potter characters in the movie.
You can choose to get the whole set consisting of a cloak, a scarf, a tie, a glass frame and a wand according to your preferable Hogwarts house.
PROS
---
Available for both kids and adults sizes
Looks like real robes worn by Harry Potter characters
CONS
---
Need to buy saperate uniform
May need to order one size bigger
User reviews:
"The quality of the robe is really unexpected. It is absolutely worth the money. It is very thick and the robe is loose enough. Don't hesitate wow! It doesn't feel cheap, it's high-end, and it's great!"
"It's a well-made costume and my son was very excited about it but it was too short for him. I followed the measurements guideline and chose accordingly but it's still workable. He particularly likes the light-up wand and sound effects. Thank you!"
---

Harry Potter Dress Skirt
What is the best Harry Potter cosplay for women? Donning the Harry Potter school uniform according to your favorite Hogwarts of course.
If you want to look like one of the female students at Hogwarts, this is one of the best Harry Potter costume ideas. The costume comes in 4 different colors that represent Gryffindor, Hufflepuff, Ravenclaw, and Slytherin.
This costume is actually a one-piece dress with a round-neck collar. You will get a separate one-piece necktie and high collar according to the house color.
Remember to pair this with a robe to complete the look. This outfit is sure to impress during Halloween parties or Potterhead meet-ups.
CONS
---
Inconsistence sizes
Need to buy robe and wand saperately
Hand washed only
User reviews:
"This costume is super cute. It's one piece for the collar and tie, then another piece for the shirt and skirt. It's incredibly short though. My daughter ended up wearing it with a pair of black leggings and won two costume contests. Definitely worth the money."
"My daughter is 5'1" 110lbs. I followed the chart and it fit her well. She loved this. She wore it three times with no rips or tears to the fabric."
---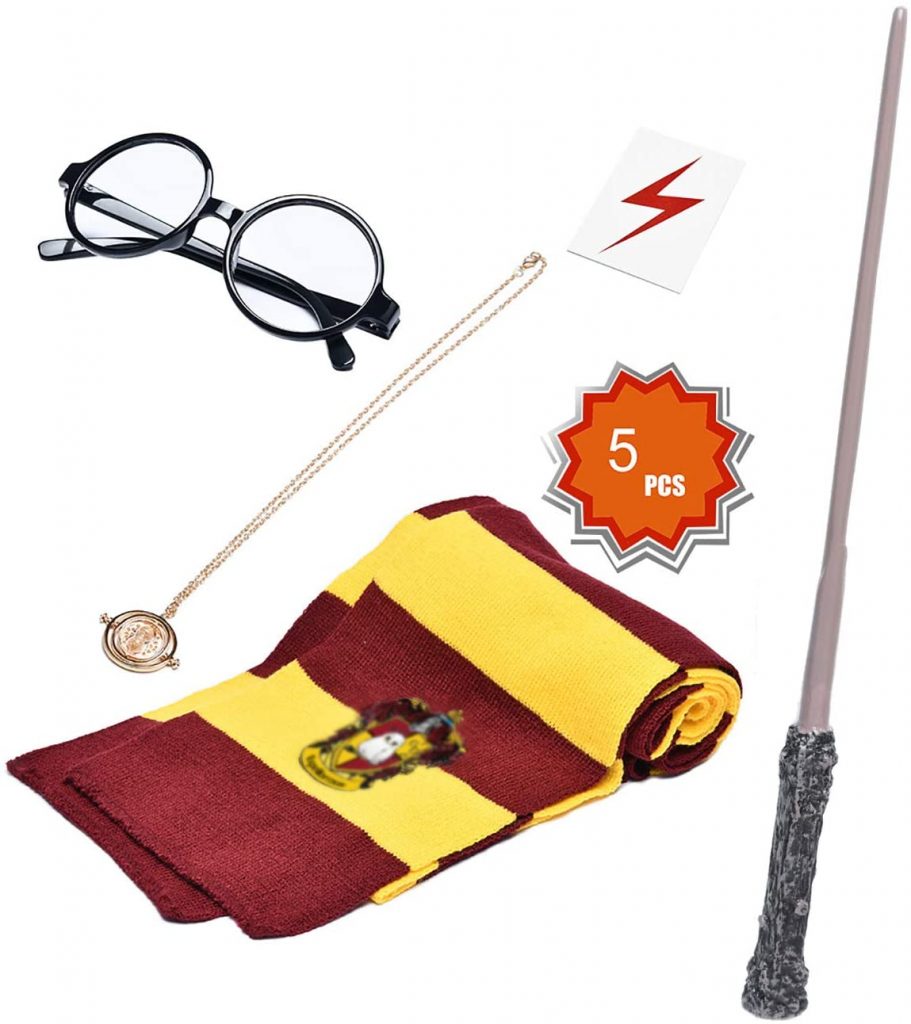 Kesocoray Cosplay Costume Props Accessories For Harry Potter
Whether you want to give a present or use it as decoration on someone's birthday cake, the Harry Potter props accessories from Kesocoray are the best way to go.
This assessor set comes with a resin magic wand, one pair of black glasses frame, one knitted Gryffindor scarf, one piece of time hourglass necklace and one piece of Harry Potter famous tattoo sticker.
How cool is that? These accessories are the most basic and acceptable Harry Potter costume ideas if you don't have anything in mind at the moment.
PROS
---
Complete accessory look for Harry Potter
Great for cosplay
Excellent for cake decoration
CONS
---
Suitable for kids aged 3 and above only
The scarf might not be as accurate as on the movie
The wand is too long
User reviews:
"I bought this for my 6-year-old grandson who has listened to the first 2 books and is a big fan. He adorned himself with all the pieces and left them on all day. This is toy quality so don't expect a well-knitted scarf. I thought it was a good value for the money and has the classic Potter pieces."
"It's the perfect companion to the Harry Potter robe. The colors of the scarf are perfect Griffendorf colors."
---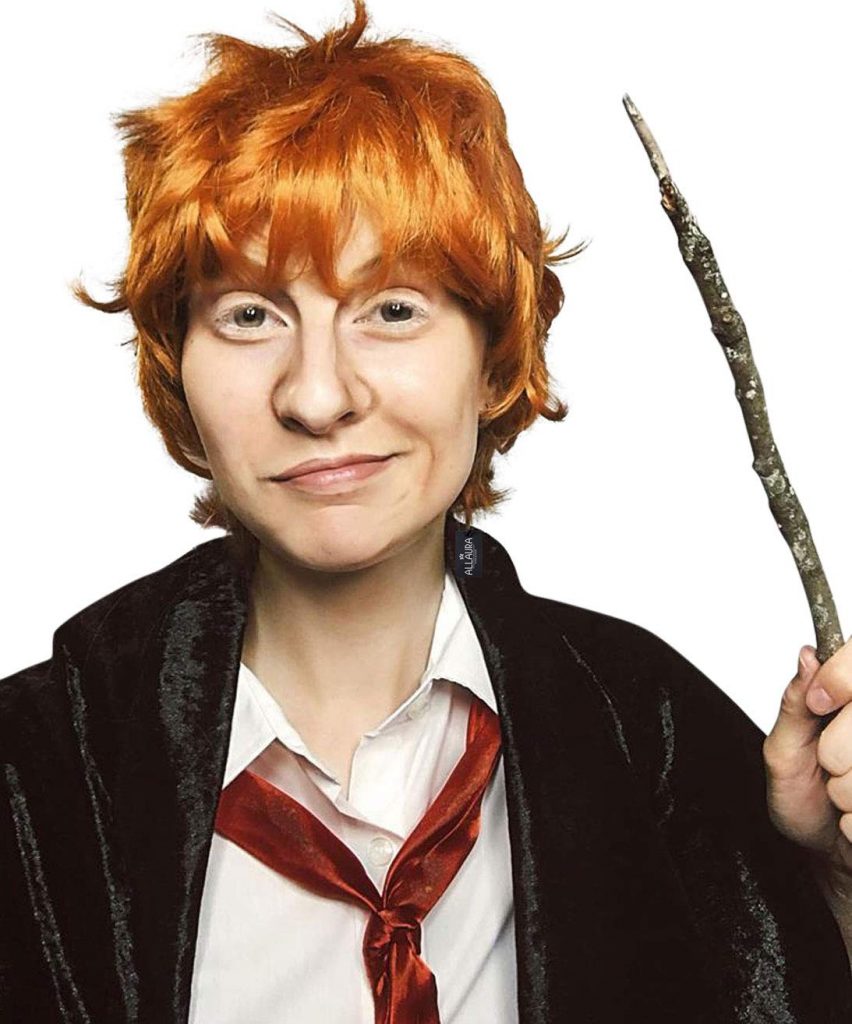 Ron Weasley Wig Short Orange
You can't portray Ron Weasley's character without an orange wig, right? If you are looking to hone your Ron Weasley cosplay, this is the best and the most perfect ginger-coloured wig you could ever get.
The wig looks so natural with a soft and thick texture. It has an adjustable elastic wig hair net so that it can fit all-size heads. Moreover, it is itch-free and not hot to be worn.
Furthermore, the wig is already pre-style. This means you can wear it instantly once you got your parcel.
All you have to do is shake the wig, put it on your head, and be ready to Expelliarmus!!
PROS
---
Perfect for Ron Weasley's character
Pre-style
CONS
---
Maybe get tangle and mangle during delivery
User reviews:
"I bought this for my son as part of a Ron Weasley costume. One of the better wigs we have purchased. Has adjustment for head size so can be worn by child or adult and lots of hair!"
"Love it! Perfect for Ron!"
---
---
---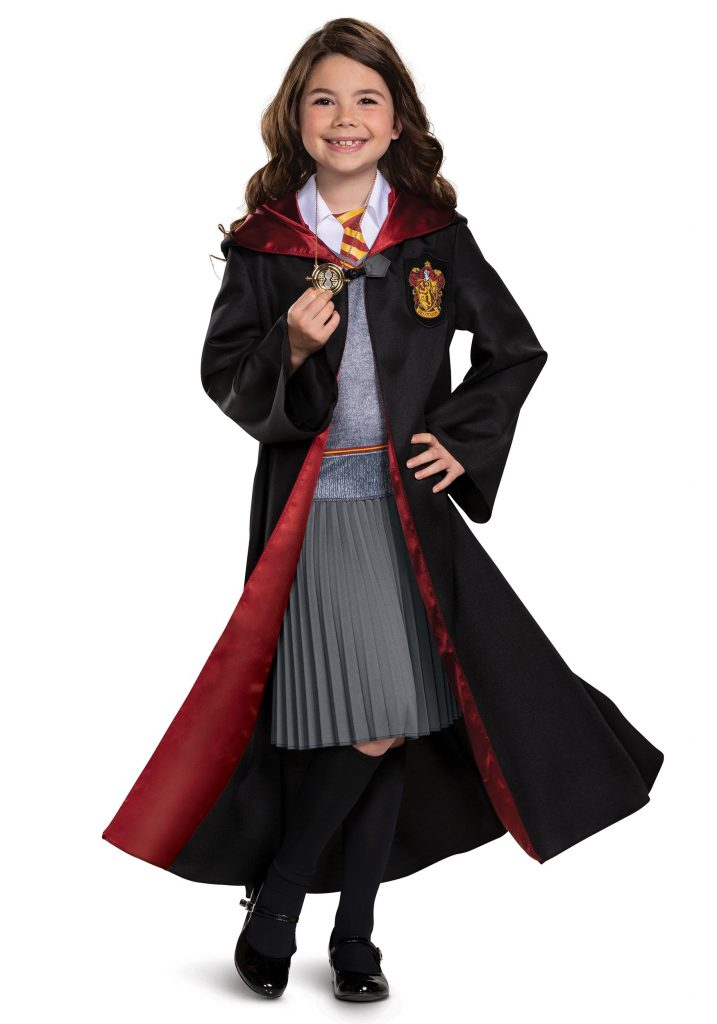 Hermione Granger Gryffindor Full Costume
Here is one of the best Harry Potter costume ideas for girls. The Hermione Granger Gryffindor full out.
Whatever event you are attending – Halloween party, cosplay event, birthday party, or dress-up party among friends, this outfit will definitely impress everyone.
This costume comes with a fully-printed schoolgirl uniform that makes you look just like Hermione! The full set consists of a full twill Gryffindor robe, school uniform dress and collar with a necktie, including a detailed felt patch on the robe.
It also includes a piece of time-turner necklace and a wand. So, you don't have to look for them anywhere else.
Safe your time and your effort!
PROS
---
Complete set of robe and school uniform
Affordable price
CONS
---
Need to buy the wand, wand and necklace saperately
User reviews:
"Looked a lot better than any of the other ones I found at a store. Other costumes require you to buy the robe separately. This one had a full dress and a detached robe. We were happy with how it looked and the price was better than most."
"This is the most beautiful costume we have ever purchased. Such good quality. Very well made."
---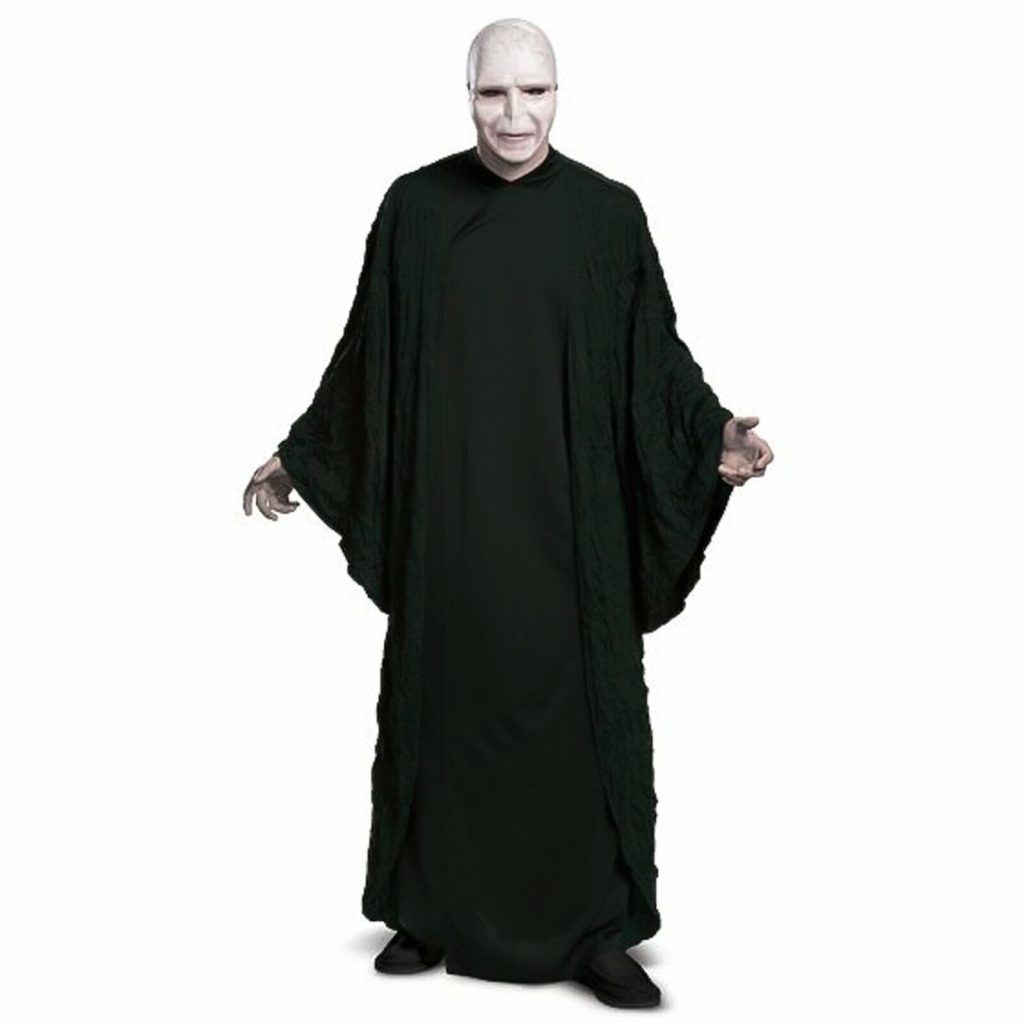 Voldemort Deluxe Adult Costume
Why be a good guy when you can be some badass villain? And which villain best to be other than Lord Voldemort?
This Voldemort costume for adults comes with a flowy black cloak and a half mask.
The mask is made of soft and breathable material. Meanwhile, the black cloak features a flowing, black-draped robe to give this outfit a lively and authentic appearance.
The one thing you should notice about this costume is the price. Compared to other Voldemort costumes that you can find in the market, this pair has been at a reasonable price, hand in hand with the great quality it offers.
PROS
---
Reasonable price
Comes with robe and mask
CONS
---
The mask may not comfortable to be worn
User reviews:
"This costume paired well with our Harry Potter Halloween theme cosplay costumes. The costume was comfortable and easy to put on. The face mask was good. Received a lot of compliments."
"A great robe/ cape exactly as in the photo. Good material and solid enough to be convincing. The half mask is, as expected, a bit of a letdown. It does do the job though."
---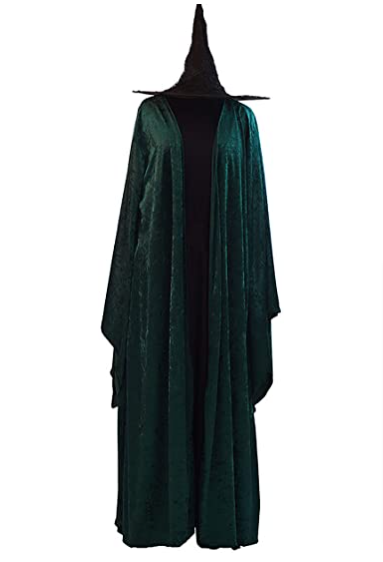 McGonagall Hogwarts Witch Dress
The McGonagall witch dress is perfect for any witch cosplay for any time of the year, not only during Halloween. It is one of the best Harry Potter costume ideas to complete the Potterhead clan trick and treating night out.
The costume comes with a long dark green dress with velour cloak and also the iconic pointy black witch hat.
The dress itself has a high neck and is slightly fitted around the waist. It is indeed a great witch costume at a reasonable price.
CONS
---
Might be too long for short person
User reviews:
"Cloak is Nice and long if you're tall. If you're not, you'll need to hem the cloak. It fit me very well and was very comfortable. It really gave me the Professor McGonagall look but I used a different hat. The hat that is included is a plain witch hat, nothing wrong with it but I found one more like Minerva's."
"It's a good costume and reasonably priced. I am doing some additional touches to make it more like McGonagall's. I am so happy it came so quickly."
---
---

COSMOVIE Harry Potter Dumbledore Costume
In this set of COSMOVIE Dumbledore costumes, you will get a tunic, robe and a hat. In fact, they are all come in excellent quality.
The details on the robes, tunic and hat are magnificent. The design of the costume, especially the hat, is really similar to the original hat design in the movie.
You can never go wrong with this set of Dumbledore costumes.
PROS
---
Great price
High quality costume
CONS
---
The tunic is a little bit long
User reviews:
"I bought this costume for my granddaughter's upcoming 7th birthday. She said I could either come as Hagrid or Dumbledore, and I chose Dumbledore because this costume looked really good in the photos. The costume is simply awesome! I bought the XXL size, and it fits almost perfectly. The tunic is a little long, but I will be wearing shoes with thick soles on them, so I doubt I will trip on it. The sizing guidance provided by the seller is very accurate and helpful."
"It's a gorgeous costume. Much more for the money than the McGonagall costume that I purchased. It has a tunic, robe, and hat. Good value and well made. Shipping from China was also very quick. Thank you."
---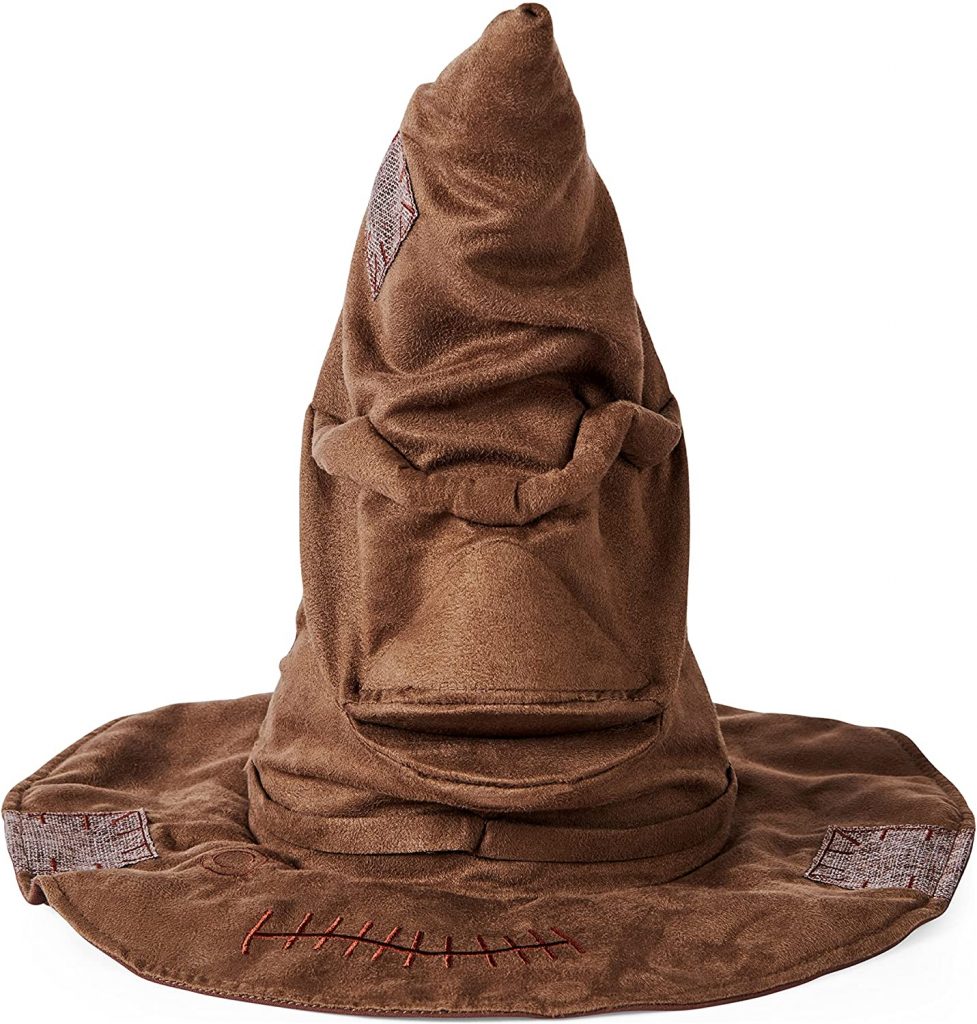 Talking Sorting Hat With 15 Phrases
This Talking Sorting Hat will not only gets kids exciting knowing their Hogwarts House, but also the adults.
It comes to life with 15 phrases and realistic facial movements. You can see the eyebrows, head and mouth move as it determines your Hogwarts House. How cool is it?
PROS
---
Available in two languages (English and French)
Has incredible movements
CONS
---
Needs battery to operate
Battery may wear out fast
User reviews:
"Really does talk and sound like the sorting hat! The opening is pretty small so I don't see anyone being able to wear it for a costume but I am putting it on the top of my Harry Potter Christmas tree."
"Bought as a birthday gift for a 6-year-old boy who has just discovered the world of Harry Potter. He loved it as did the adults at his party who were desperate to find out which house they'd be in. Who would have guessed there were so many closet Slithern fans! Well worth the money for that day alone but I was impressed with the quality. My most successful gift so far"
---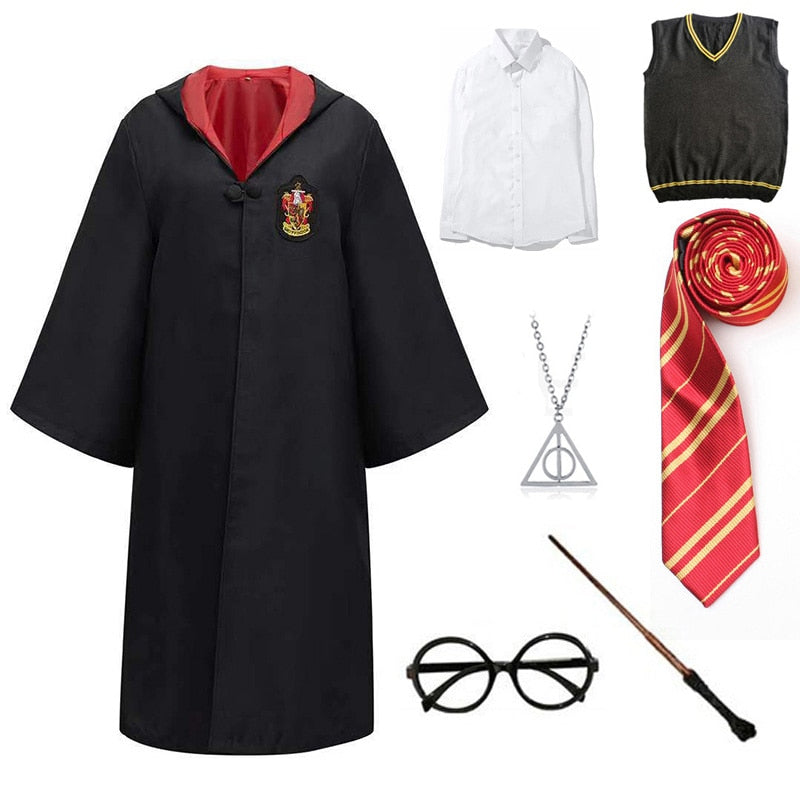 Harry Potter Cloak Cosplay Costume & Accessories Full Set
Completing your Harry Potter cosplay look might be a hassle. Especially when you have to buy different outfits and accessories from different sellers.
If you want to buy complete attire and accessories for a Harry Potter costume, this set could save your time and also your money.
You can choose to go with 7 pieces, 8 pieces, 9 pieces or 10 pieces items which include a cloak, a sweatshirt, a long sleeve shirt, a tie, a glass frame, a wand and a necklace. The additional items are a hat, a scarf and a skirt.
The best thing is, you can select which Hogwarts house color you prefer – Gryffindor, Hufflepuff, Ravenclaw or Slytherin. Other than that, you can also choose what size fit you the best – S, M, L, XL or XXL.
PROS
---
You can choose what items to buy
Complete set of robe, uniform and accessories
Great price
CONS
---
Only availbale for size S, M, L, XL and XXL
User reviews:
"When I received the goods and opened it, I saw that the quality was good, and it was exactly the same as the one described above. The customer service was very meticulous, and the fabric was very good. My friend also said that it is good, and I will buy it next time."
"Everything was perfect! I love that the color of the green part is not that bright. The sizes are perfect too! Highly recommend!"
Final Thoughts
These costumes and accessories we mentioned above are perfect for your next Halloween party, cosplay event, birthday party or even a dress-up get-together party with your friends.
From Hogwarts house robes to Harry Potter cosplay accessories to the amazing sorting hat that talks, the classic Harry Potter costume ideas are definitely here for you to take some inspiration.
So, which Harry Potter costume will you be wearing next?
---
---