If you're a huge anime fan, you'll know that thigh high socks are a super prevalent fashion. Wearing them and styling thigh-high socks isn't easy in real life (outside of cosplay) as they can look a bit trashy when worn wrongly, but they look so darn adorable when done right! Here are some simple tips that you can use when buying thigh-high socks, how to style them and where you can buy cute thigh high socks.
---
Estimated reading time: 5 minutes
---
Tips to Wear Thigh High Socks Without Looking Trashy
Buy the right size for your thigh high socks
Any brands claiming that they're a one-size-fits-all is a lie. If you wear thigh high socks that are too small for you, it can cause a "muffin-top" experience, which is where all the fats "spills" out at the top of the elastic of the thigh high socks, which can make your thigh high socks look trashy. Plus, it'll be super uncomfortable since it's restricting your movements.
But getting thigh high socks that are too big can look rather trashy too! You'll constantly have to pull it up and that doesn't look cute when you're trying to snap that cute pic. Find the right size for your thigh high socks by making sure you feel comfortable wearing it.
Try hold-ups or garter belts
These can hold up your thigh high socks as you walk around but it also depends on your outfit. If you're wearing something more skin-tight, these items may cause unattractive-looking bulges. However, when worn correctly, you can match them to give a sexier and seductive look.
You may also try faux thigh high socks, which are essentially leggings but with a fake thigh high socks design. These would be most comfortable to wear and still look the cutest too!
Find a wideband or silicone adhesive
Stockings with these will stay put on their own and it also prevents a muffin top look. If the elastic or cuff is too narrow, they will dig into your skin and create an unsightly muffin top.
Prevent socks from rolling down with baby powder
When your skin is drier, the silicone adhesive in your socks will stick to your legs more strongly to prevent it from rolling down. If your skin is oily, try using baby powder to make it drier.
---
---
Tips to Buy Thigh High Socks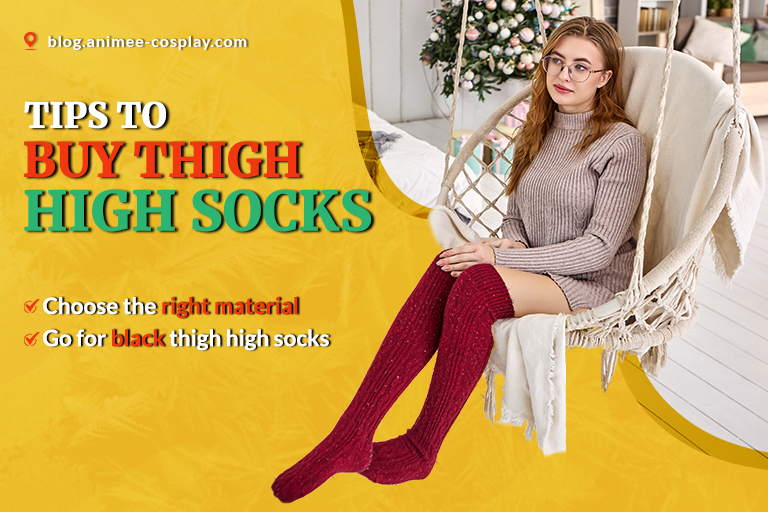 Go for black thigh high socks
If you're unsure where to start with thigh high socks, opt for getting a black colour. First off, you'll never go wrong with black. It's a very versatile colour that matches any outfit in your closet.
Not only that, black thigh high socks are convenient if you're a cosplayer because there are MANY anime characters that wear this. So once you buy thigh high socks for your cosplay, you can still rewear it for normal days!
Choose the right material
The wrong material for thigh high socks will be difficult to wear in the long run and might cause a lot of discomfort. Try to find a softer material that won't cause friction or allergies to your skin.
Material also depends on your own style too. If you'd like to look cool, choose thinner thigh high socks or different materials like fishnets, sheer, or opaque. If you want a cutesy and modest look normally worn in anime, choose a thicker material.
---
---
Tips to Style Thigh High Socks
Try a boyfriend look
One way to style your socks is with a borrowed T-shirt or distressed and rugged shorts from your male partner. The bagginess of the shirt and the ruggedness of your shorts can be a great balance between preppy and a sexy look.
Play with colours
If you love neon colours, thigh high socks can be a great complement to your outfit. By pairing a black pair with your bold outfit, it helps to neutralise the boldness while also draw attention to your long legs.
Use accessories to dress things up
As thigh high socks are already a prominent thing in your outfit, you don't want to overdress yourself until it looks trashy. You can keep your outfit more coherent by adding subtle elements to your outfit such as a statement necklace, boots, and even lacy shoes.
Conclusion
Styling thigh high socks is easy when you have these tips. Trust us, you'll never look trashy or ugly. These tips can be useful especially when you're facing issues like your socks constantly rolling down or suffocating your legs. Good luck and have fun!
---
---
Read More: