When it comes to the best role-playing video games of today, Genshin Impact deserves the mention. It is a game in which you assume the character of the Traveler, wandering in the world of Teyvat, searching for a sibling. While playing, you'll come across a variety of amazing, colorful, goofy, and shrewd easy to cosplay anime characters female.
Having that said, if you are a hardcore fan or a newcomer, cosplaying some of the characters from Genshin Impact will truly be an amazing way to showcase your love for the game. More convincingly, many female characters would make amazing cosplay, displaying a massive variety of personalities and outfits.
Table of contents
---
Estimated reading time: 5 minutes
---
So without further ado, below are some of the top female Genshin Impact characters to cosplay as:
Nilou
Coming up first on this list is Nilou – the graceful and elegant dancer. Her skin is fair, with light blue eyes, and she has bright red-colored hair that falls past the back of her hips.
Almost everyone Nilou encounters receives her extraordinary politeness, even when she is not performing. She is the principal dancer of the Zubayr Theater, demonstrating her exceptional abilities. Nilou is kind and gentle, walking people through problems step-by-step and providing stress-relieving techniques.
She thinks sweets are a great way to cheer people up, thus she enjoys them. But she hates mushrooms; she can't tell the difference between toxic and non-toxic because she suffered trauma from eating a poisonous mushroom.
So, if you believe your personality aligns with that of Nilou's, you know who to cosplay as.
Buy Nilou cosplay wig & costume
Nahida
In Genshin Impact version 3.2, Nahida—also referred to as Lesser Lord Kusanali—came up as the playable Dendro Archon. She has wide green eyes, pointed ears, light skin, and white hair with tips that shine dendro-green when she utilizes her Elemental Burst or Elemental Skill.
In the beginning, Nahida has a childlike disposition. However, her disposition slightly changes upon being discovered by the Sages; she becomes less jovial, rigid, and incapable of being expressive.
Overall, she's the perfect pick if your goal is to look badass but you also want to choose easy to cosplay anime characters female.
Buy Nahida cosplay wig & costume
Kuki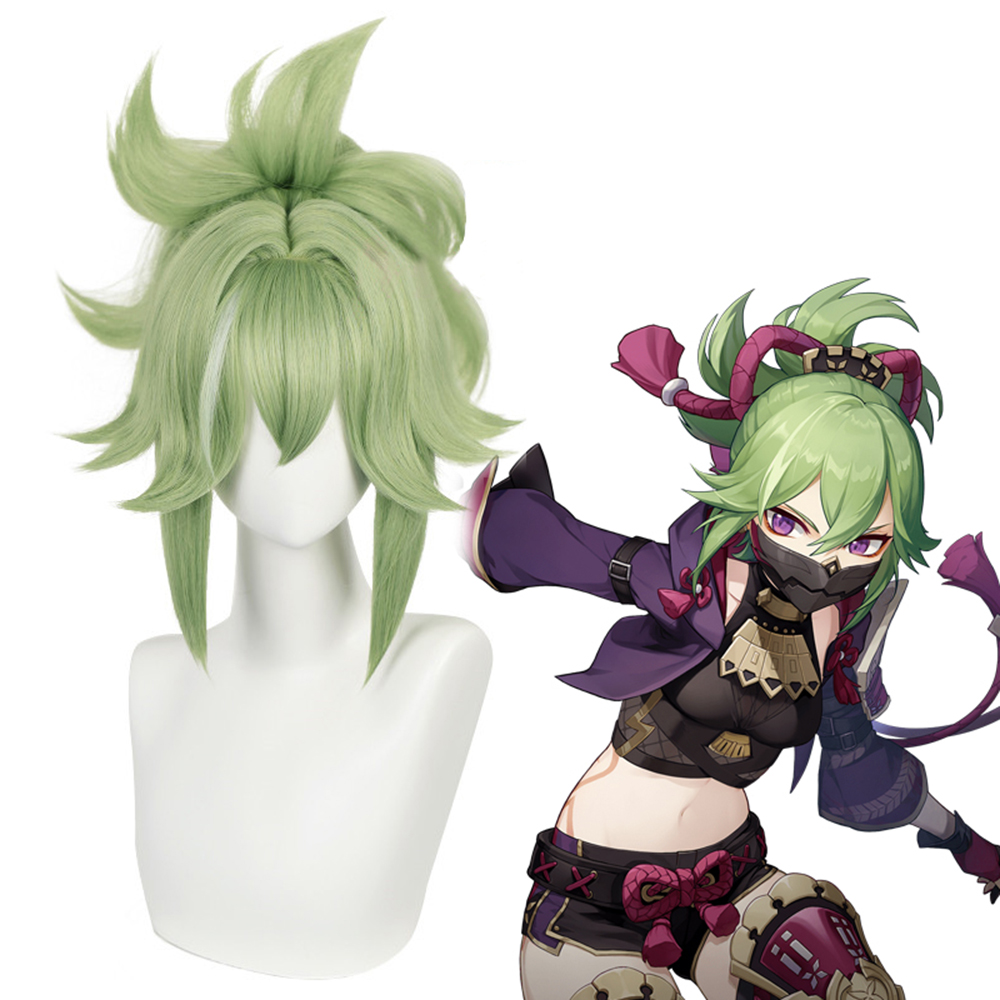 Kuki is the Arataki Gang's deputy head. She has narrow reddish-violet eyes, pale skin, and light green hair. Additionally, she has reddish-purple skin marks along the sides of her waist. Unlike the others in her group, she approaches problems with a serious and generally professional demeanor. She takes care of the gang's legal problems, bails them out of trouble, and does her best to make up for whatever harm Itto's pranks may have caused. The residents of Hanamizaka are aware of her professionalism since they seek her counsel on a variety of issues and are pleased by how well and smoothly their conversations with her go.
Buy Kuki cosplay wig
Mona
Astrologer Mona is passionate about her work and takes it seriously. Her dark purple hair reaches her waist and tinges slightly red at the ends. She has pale sea-green eyes, fair skin and irregular fringe. Mona respects and, at the same time, fears Barbeloth, her master, and is quite knowledgeable on this subject. She is a well-known if still developing, astrologer because she blends her knowledge of astrology with hydromancy.
Mona's ability to discern lies, discern someone's intents from a glance, perceive someone's destiny, and accurately infer a person's characteristics based only on their constellation is partly attributed to her knowledge of astrology.
Buy Mona cosplay wig
Conclusion
So that concludes our list of the top-best Genshi Impact female characters you can cosplay. Each and every one of these easy to cosplay anime characters female embodies a perfect blend of elegance, strength, and mystique that make them ideal choices for cosplayers seeking to make a lasting impression.
---
---
---
Read More: