There's something about anime characters with blonde hair. They just stand out when compared to the rest. With the cosplay season about to hit us soon, everyone needs ideas. So today, we've got 10 anime characters with blonde hair right here. Let's have a look at each one of them!
---
Estimated reading time: 8 minutes
---
Who Are They?
10. Himiko Toga -My Hero Academia
Ever since the second season, Toga Himiko has been a name to fear. She is surely the quirkiest baddie up Shigaraki's sleeve. When it comes to anime characters and blonde hair, she stands out. Everyone knows about her. For girls, this is one of the best choices. Anime characters with blonde hair without Toga is a big no.
9. K/DA Ahri-League of Legends
Ahri has always been a fan favorite. Including her in the anime list is a bit strange. But she's been all over the animated music videos on YouTube, no? Let's add the hottest video game character with blonde hair! She will for sure make everyone remember her ability kit in no time. This is your best choice when it comes to blonde cosplay wigs.
---
---
8. Denki Kaminari-My Hero Academia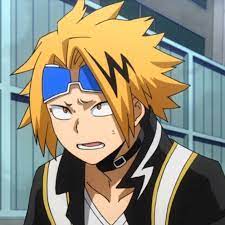 The lightning fool from My Hero Academia is here. Ever since the show's debut, this guy has been a unique one. One look at this anime character's blonde hair and you know. You know that this has to be cosplayed in the best way there is. So, grab yourself this anime character with blonde hair cosplay!
7. Tohru-Kobayashi san Chi no Maid Dragon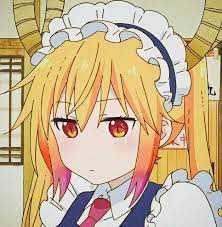 This show was one of the most unique ideas. Having a dragon maid sounds cool as hell. But Tohru makes it even more fun for everyone out there. With the second season out as well, this one's it. You have to grab this blonde cosplay wig. This anime character's blonde hair is just too good to miss out on. Grab it while it's hot and search for kanna at the expo! That would make the entire thing a beautiful memory to remember.
---
---
6. Denji-Chainsaw Man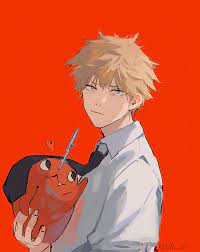 Ever since the trailer dropped people have been going crazy. Denji is here in an anime series! This just doesn't get any better than this. The show is about to take the world by storm for sure. This is one anime character's blonde hair that you want! Surprise the fans out there with this blonde cosplay wig that's as hot as it gets right now. The anime isn't even out yet and the trailer is the most viewed trailer we've had in a long time. That just makes the excitement skyrocket in an instant. The adrenaline dose is going to be real this time.
5. Miyazono Kaori-Your Lie in April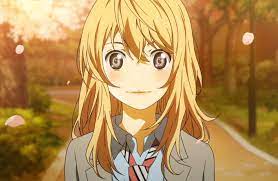 The best romance anime gets the top spot without a doubt. Bring the good old days to life with this blonde cosplay wig. This anime character's blonde hair never gets old no matter what. The perfect fit would be to get an Arima with you to the expo. People wouldn't stop asking for pictures, trust me on that. The violin piano duo would be back to perform for the entire world out there. Who wouldn't want to see that? I'm pretty sure everyone would be all up for it without a doubt!
4. Kise Ryota-Kuroko's Basketball
You can't talk anime characters with blonde hair without this guy. The perfect copycat sure exists when you've got him. He was the most versatile character in the anime after all. His cosplay wig isn't that out of the ordinary either. Perfect if you're looking for a normal anime character's blonde hair. Get a basketball while you're at it as well. Copy other anime characters at the expo without breaking a sweat. It'd be fun to play around with different people at the site. Plus, this is one of the easiest cosplays to pull off. It's perfect for someone lazy. You can pull this off all day, any day. Grab it ASAP and remind everyone how good this show was!
---
---
3. Naruto Uzumaki-The Naruto Series
It'd be a sin to not include the og in this anime character's blonde hair list. The guy has been at it since the first episode. Plus, his hair hasn't changed a lot over the years. That's what makes this anime character a real one. Make the nostalgia hit everyone with this blonde cosplay wig! Reassemble team 7 for the Naruto universe isn't all there is to it this time. With villains and characters from all over the anime universe there, the competition would be tough. A lot of anime characters with blonde hair being there would definitely be fun!
2. Giorno Giovanna-Jojo's Bizarre Adventure: Golden Wind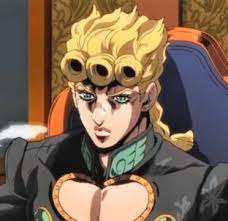 This character made Jojo hit the entire world. It was hard to find a meme that didn't feature this guy. That makes him a good fit for a cosplay without a doubt. This anime character is the coolest for sure. This blonde cosplay wig would make you macho in no time. Who knows, you might be able to call gold experience as well! There's also Dio Brando when it comes to the same show. You can also try him if you want another option for anime characters with blonde hair. Trust me, these two are the hottest picks when it comes to the Jojo universe without a doubt!
1. Kitagawa Marin-My Dress Up Darling
This show has been the talk ever since the first episode came out. You have seen clips all over the internet. But Kitagawa Marin is the main attraction for sure, that is what makes this anime so good. You have to get the cosplay wig for the style. Stand out because this anime character is too cute! Getting a Gojo would make the perfect couple cosplay come to life. You can't miss out on this opportunity if you have that special someone. Make sure you show the other characters what it means to be adorable!
More Anime Characters With Blonde Hair?
So these were the top 10 anime characters with blonde hair that you should cosplay as! I'm pretty sure your favorite was included in the list. Otherwise, feel free to check out our website. You'll surely get what you're looking for. With that being said, pull off the best anime character's blonde hair cosplay!
---
---
---
Read More: