Synthetic wigs are the most essential accessories in a cosplayer's treasure trove. Normally, mass produced synthetic wigs don't carry any sort of unusual chemical smell. However, they can easily absorb pungent odors from the environment that they happen to be in. When your scalp gets sweaty due to the heat, synthetic wigs can also produce an unpleasant sweaty smell that does not wear off very easily. Debris of scalp glands or even oil from the hair can dirty the wigs easily, leading them to stink. In this article, we'll let you in on how to get rid of bad smell and deodorize your synthetic hair or wigs well. We assure you, they're effective!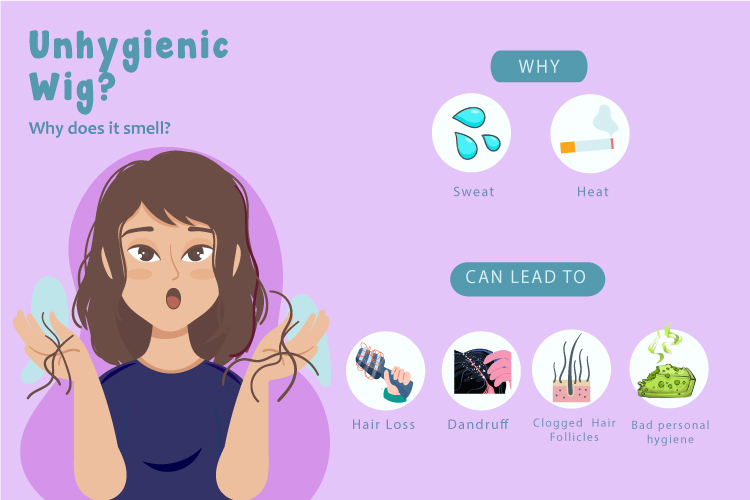 ---
Estimated reading time: 7 minutes
---
Ways to Deodorize Synthetic Wigs That Get Rid of Bad Smell
As you may already know, there are several types of wig care products available in the market that can get rid of bad smell in wigs. The most common ones are specially formulated shampoos and conditioners catered to synthetic hair and wigs. Now, did you know that you can also DIY your own deodorizing and softening conditioner that can keep your wigs clean and tidy at all times? Not only will your wigs stay fresh, it'll also give it that extra oomph it should have.

The main function of wig conditioners is to soften the synthetic fibers and at the same time, add in extra shine to your wig without weighing the fibers down. So, how does making your own wig conditioner at a budget friendly cost sound? If your answer is 'great!', here are some pretty useful suggestions on how you can get rid of bad smell in your wigs and keep them fresher for long periods of time.
Home-Made Wig Conditioner That Gets Rid of Bad Smell
Preserving synthetic wigs are actually more economical and easier than real hair. Due to its low maintenance cost, synthetic wigs are somehow the preferred choice over human hair wigs. With a simple DIY synthetic wig conditioner, you can easily keep your synthetic wigs looking newer, softer, and shinier for at least a year.
To prepare the DIY conditioner, all you need to do is mix fabric softener with water, in equal quantities. For example, if you're using one cup of water, be sure to use one cup of fabric softener as well. Mix them in a spray bottle and shake it well. Then, lightly spray the concoction all over your wig and let it air-dry overnight. See? Easy peasy.
---
Buy Fabric Softener
---
Apple Cider Vinegar Dilution That Removes Chemicals
Most synthetic wigs have an alkaline finishing. Its purpose is to protect the wig fiber and to make sure that they're heat-resistant. The alkaline finishing could also be the cause of an unpleasant chemical odor that your wigs might have. If the smell still remains even after normal washing, it's time to roll up your sleeves and get to work!
How? Just combine Apple cider vinegar with water in a 4:1 ratio. Mix it well and let your wig soak in the solution for about 20 to 30 minutes. The vinegar will remove the white film off of your wig which is actually the build-up of chemicals from other hair products that are clinging to the synthetic wig fibers. This method is highly recommended for people who are allergic chemicals or dyes used when manufacturing the synthetic wig.
---
Buy Apple Cider
---
Baking Soda That Deodorizes Synthetic Hair
Baking soda is the perfect ingredient that can be used to deodorize synthetic hair or wigs. It's also considered as a good alternative for wig shampoos. To make a baking soda based shampoo, fill your sink or small tub with three-quarter (¾) of water and add a quarter cup of baking soda. Make sure to dissolve it completely in order to prevent from having chalky residue. Then, soak your synthetic wig in that mixture for up to four hours. Lastly, wash your synthetic wig as you usually do and let it air dry.
---
Buy Baking Soda
---
For that Finishing Touch
Once you're done with either of the DIY methods shared above, spray your synthetic wigs with a wig conditioner as this will help keep your wig soft and smooth, while keeping the style intact – both straight or curly.
It also adds a natural shine and a sweet fragrance that makes it looking and smelling like a million bucks. That's one sure fire way to get rid of bad smell in synthetic hair or wigs and keep them deodorized.
Things to Remember About Taking Good Care of Wigs
To ensure that your wigs maintain its newness wehn you're trying to get rid of any bad smell,
Do not comb or brush synthetic hair wigs while they are wet. This may cause shedding.
Use only cold water to wash or rinse.
Gently squeeze the wig using a towel in order to remove additional water off the wig.
Use wig stand or wig hanger to store your wig, in order to maintain the wig in good shape.
---
---
To Bring Things to a Close
It's very likely that synthetic wigs can lose its shape and style after several uses due to static electricity or cling. The negative ions tend to accumulate onto the synthetic fibers in dry environments. Since most of the synthetic hair wigs do not contain moisture like human hair, these negatively charged ions can cause tangles in the fibers itself. So, always remember to apply conditioner whenever you're giving your wigs a good cleaning. Trust us, this will get rid of any kind of bad smell.
---
Read More: