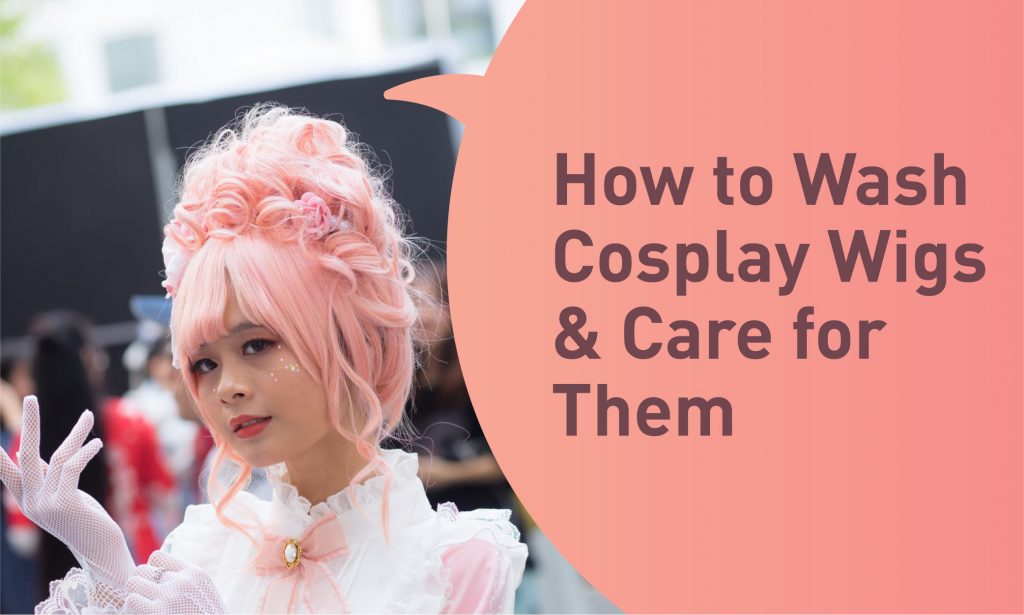 Synthetic cosplay wigs are one of the best ways to escape a bad hair day. Not only are they a fabulous piece of accessory that complements your #ootd, they're also an essential "tool" for cosplayers around the world. Just like our natural hair, cosplay wigs need to be washed and stored properly too. In this piece, we'll share tips on how to wash cosplay wigs, how to store cosplay wigs and make them last for a longer period.
---
Estimated reading time: 7 minutes
---
How to Wash Cosplay Wigs So That They'll Look as Good as New?
Keeping synthetic cosplay wigs well maintained is easy and more cost-effective than you think. Mainly made of a synthetic material called Kanekalon, synthetic cosplay wigs can retain its lustrous effect even after a good washing. This, in turn, will require less styling time.
Time needed: 10 minutes.
How To Wash Cosplay Wigs Effectively?
Mix water with shampoo

Fill up a basin, sink, or tub with lukewarm water. Then, add a small amount of non-abrasive hair shampoo. Shampoos that are a big no-no for this are dandruff and medicated shampoos.

Get rid of hair product residue

Place it in the water and gently wash off excess hair products that were used to style the wig.

Replace water and soak

At this point, the water may be a little bit murky. Replace it with clean water, soak the cosplay wig in it for another few minutes, and wash off all the shampoo.

Dry it with care

Gently remove the cosplay wig from the water after washing, and pat it dry with a towel. Remember to let the wig fully dry before brushing it because brushing wet wigs can further damage it. Don't ever use a hairdryer to blow dry it because it can melt off the fibers. Air drying synthetic cosplay wigs would be a better alternative.

Ready to be styled

Once dried from the washing, gently brush or comb the cosplay wig.
---
---
How Frequent Should A Cosplay Wig Be Washed?
It depends on how often it's worn. For an easier estimation, just remember to wash it after 30 wears, or every four to six weeks.
How To Store A Cosplay Wig?
A washed cosplay wig can last at least four years, depending on how well it's kept. Check out these easy cosplay wig storage tips.
Lay the wet cosplay wig on a flat surface instead of hanging it down as it will be easier to store once dried.
Display the wig on a mannequin head or a wig stand. Do not stash is aside.
Coil the longer wig into the cap and secure them in the netting that came with it during your purchase.
Keep the cosplay wig in large storage bins and wrap in Ziploc bags. This helps prevent from direct moisture and light.
Add in a few moth balls to prevent pests from infecting the wigs.
---
---
Tips for Longer Lasting Cosplay Wigs
Halloween wigs and cosplay wigs are not the same. Synthetic wigs sold in novelty stores are usually inexpensive and meant solely for short-term use such as for Halloween costumes. Cosplay wigs, on the other hand, are higher in quality and made from heat-resistant synthetic fibers, hence its long-lasting effect.

How to make cosplay wigs last longer, aside from washing? It's simple – use lesser hair styling products as possible. Every time you apply styling glue, hair gel or wax, you actually reduce the wigs' life. Synthetic fibers can't handle the effects of overusing styling tools. As a result, the fibers will melt, leaving the wig rough and messy. Try using hair styling products meant for synthetic cosplay wigs to avoid them losing their shine and originality. This will ensure a longer life span too.

In addition to that, make sure you wear a wig cap underneath so that the wig doesn't absorb natural oils from your own scalp. This will help minimize the number of times your wig needs a rinse.
Gentle Reminder – Coslay Wig Heat Resistant Testing
Even if your cosplay wig claims to be 100% heat resistant, always perform a patch test first before using a heating appliance. All heating appliances vary in temperature therefore you may accidentally end up damaging the synthetic fibers. If the testing is successful, you can go ahead and curl or straighten your cosplay wig safely.
On another hand, if you plan to change the color of your cosplay wig anytime soon, heat-resistant cosplay wigs can accept dyes perfectly.
Conclusion
Cosplay is not just a hobby but a type of profession. With proper maintenance, wash, and care, your cosplay wigs can last longer than a typical synthetic unit. If you're planning to venture into cosplaying for the long run, don't get your cosplay wigs from a thrift store, novelty shop, or from a Halloween store unless you're planning to use it only once, or twice at the most.

At UNIQSO, we ensure that the cosplay wigs we offer are made in perfect condition. We understand that it can be quite pricey so make the best out of them by handling with care.
---
Read More: