Rule number one of storing cosplay costumes is to ensure to keep it away from direct sunlight and moisture. Sweat and damp garments will develop mildew, which can cause tough stains that are even more difficult to remove. In this post, we'll share tips on how to store cosplay costumes, wigs and accessories the right way. Read on to learn more!
---
Estimated reading time: 6 minutes
---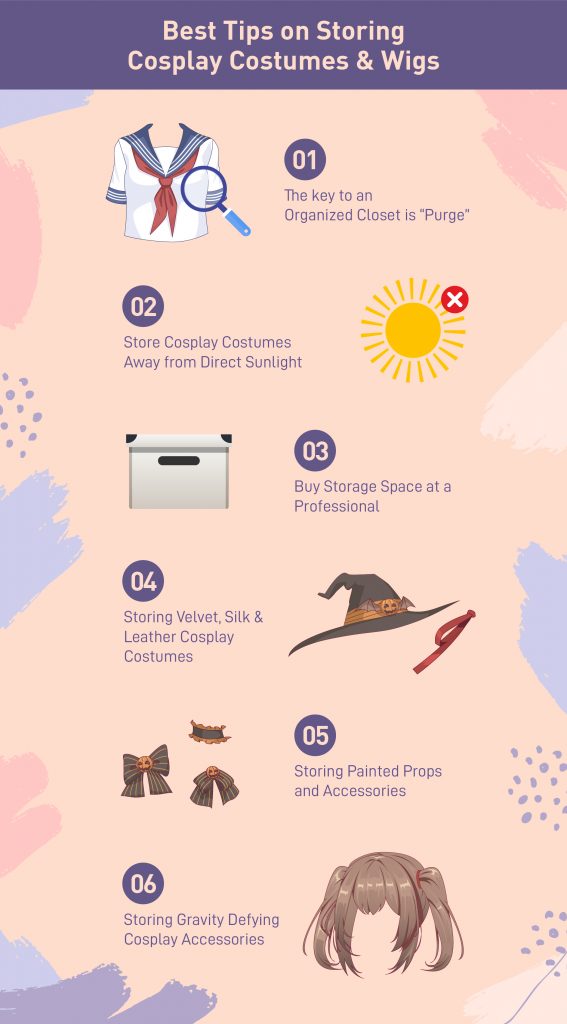 How To Store Cosplay Costumes
The key to an Organized Closet is "Purge"
Try to make it a point to spring clean or "purge" at least once a year. This way, you'll score extra storage space for newer or additional cosplay outfits. For the ones that you've decided to keep, make sure you remember to inspect them thoroughly.
Look out for nips, notches, puckering, or other minor repairs that your outfit may require and do it. Trust us, it'll expand the shelf life of your cosplay costumes.
Keep Away from Direct Sunlight

Most cosplay enthusiasts would advise storing cosplay costumes by folding and wrapping them separately in plastic bags. The main objective for this is to store them safely and away from direct sunlight until the next cosplay season comes around.
The best place to store cosplay costumes would be in a cedar trunk or a plastic storage box with enough space to hold other delicate accessories such as wigs.
Try to avoid from using cardboard boxes and paper bags because these won't keep water or moisture at bay. To keep the cosplay costumes smelling fresh, you could also put in cedar chips into your storage box. Moth balls are another useful alternative but they'll leave a rather unpleasant scent on the garment.
Get Extra Storage from Storage Providers
Did you know that you can purchase or rent storage space from storage providers or other cosplay stores to store your cosplay costumes? There'll be someone who can help take care of them until you need them again. How convenient is that?
---
---
How to Store Velvet, Silk & Leather Cosplay Costumes
Not all fabric have the same management methods. For instance, don't fold costumes made from velvet or leather. Simply because it can cause permanent creases. When storing them, be sure to lay them flat with paper sheets in between the layers. This will help avoid from the fabric sticking to each other.
It's also a good idea to lay paper sheets in between layers of fabric that have heavy and intricate hand embellishment such as beads, glitters, or sequins. By doing so, the entire embroidery pattern won't be damaged.

Store cosplay costumes made of silk in dry and dim spaces. Since silk is a natural type of fiber, it needs proper air circulation so do not store them in plastic. If it has velvety details, lay paper sheets in between the folds as well so that the velvet won't stain the silk.
Storing Painted Cosplay Props & Accessories

Hand painted cosplay accessories need extra tender, loving, care too. Be sure to store them in a separate box and away from the other cosplay costumes. Some storage boxes have the tendency to catch heat, depending on its surrounding. This causes the paint color from the props to easily transfer to other items that are stored along with it.
To Store Gravity Defying Costume Wigs & Cosplay Accessories
Accessories that come in gravity-defying shapes such as helmets or wigs should be stored with stuffing. This way, it won't go flat over time. Then, store your wigs by covering them in a hair net – either resting on its front or back, or on a Styrofoam wig head.
Remember to also keep it away from direct sunlight, heat, and dust. Here's another important warning – never ever fold your wigs! If you have really long ones, you can always braid them to keep them tidy and neat.
Conclusion
The key to keeping cosplay costumes looking brand new at all times is to go through a round of maintenance on a yearly basis. You could send your costumes to dry cleaners or run a quality check to ensure that your garment doesn't turn moldy or get faded overtime.
If you're looking for accessories to expand your collection of cosplay costumes, we've got you covered.
---
---
Read More: