The term "couple cosplay" refers to the activity of two people, often a romantic pair, dressing up as characters from popular cultures, such as comic books, video games, or anime together. Not only is it an enjoyable experience that allows for creative expression, but it also has the potential to bring couples closer to one another and strengthen their relationship.
Whether or not a couple's cosplay is "outstanding" is an issue of personal judgment. Despite this, many couples who cosplay together find that it strengthens their bond in various ways.
As a bonus, cosplay can be a fun and romantic way for couples to spend time together doing something they both like.
Couples thinking about trying out cosplay together should first assess whether or not
both members are interested in the activity.
they have compatible schedules, and
they can afford to invest significant time and money into the endeavor.
The couples cosplay idea may be a terrific method to strengthen a relationship if both participants like the activity and learn something new from it.
---
Estimated reading time: 6 minutes
---
How does Couple Cosplay Help to Improve the Relationship?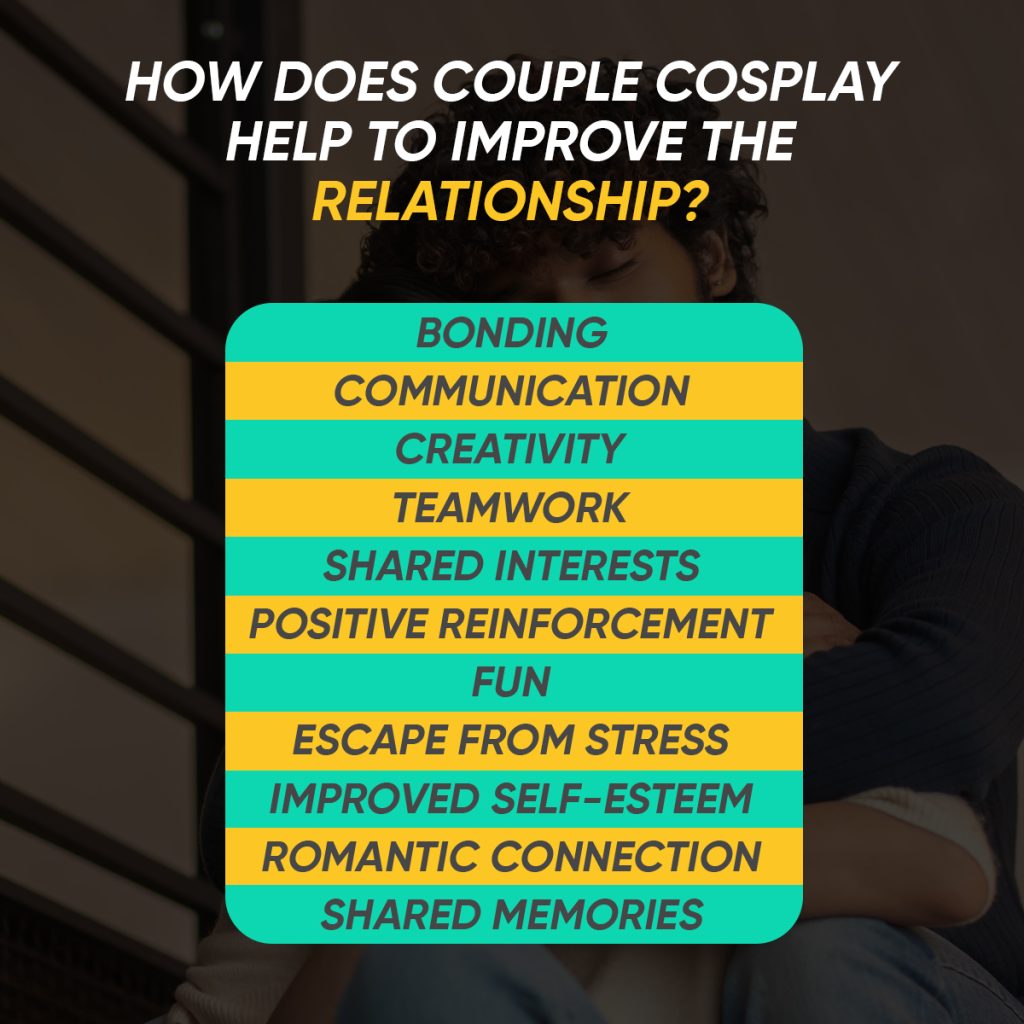 Couple cosplay can help to improve relationships in several ways:
Bonding:
Because it requires partners to collaborate on the creation of a unique experience, couple cosplay has the potential to strengthen romantic relationships.
Communication:
Couples' cosplay enhances communication through their cosplay outfits and characters.
Creativity:
Cosplay allows couples to tap into their creative sides and work together to bring a character to life.
Teamwork:
Couple cosplay improves teamwork and cooperation, helping couples to develop trust and respect for one another.
Shared interests:
Couples can share a common interest in pop culture, anime, or comic books by participating in cosplay together.
Positive reinforcement:
Cosplay has the potential to offer a constructive and encouraging environment for couples, allowing them to encourage and inspire one another.
Fun:
Cosplay is a fun and entertaining activity that can help couples to relax and have a good time together.
Escape from stress:
Cosplay can escape the stresses of everyday life, helping couples recharge and reconnect.
Improved self-esteem:
Cosplay can help boost a person's confidence and self-esteem, positively impacting the relationship.
Romantic connection:
Couples can create new romantic memories and experiences by participating in cosplay.
Shared memories:
Couples may create memories together via the shared experience of cosplay that they will cherish for years.
Overall, cosplay can be a fun and engaging way for couples to improve their relationship by bonding over a shared hobby, enhancing communication skills, and tapping into their creative sides.
Unique Couple Cosplay Ideas
Here are more detailed descriptions of the couple's cosplay ideas:
Mario and Princess Peach
Dress up as the classic video game duo, with Mario in his signature red and blue overalls and Princess Peach in her pink dress and crown.
Harry Potter and Hermione Granger
Recreate the famous wizarding duo from the Harry Potter series, with Harry in his black robe and glasses and Hermione in her Hogwarts uniform.
Belle and the Beast
Dress up as the beautiful and romantic duo from Disney's Beauty and the Beast, with Belle in her yellow ball gown and the Beast in his blue prince's attire.
Bonnie and Clyde
Pay homage to the infamous criminal couple of the 1930s, with Bonnie in her flapper dress and Clyde in his suit and fedora.
Katniss and Peeta
Dress up as the brave tributes from The Hunger Games, with Katniss in her leather hunting gear and Peeta in his baker's apron.
Sherlock Holmes and Dr. John Watson
Step into the roles of the famous detective duo, with Sherlock in his traditional deerstalker hat and coat and Watson in his suit and trench coat.
Jack Sparrow and Elizabeth Swann
Dress up as the adventurous pirate couple from the Pirates of the Caribbean franchise, with Jack in his tattered pirate garb and Elizabeth in her elegant pirate attire.
Superman and Lois Lane
Become the iconic comic book couple, with Superman in his blue and red costume and Lois in her professional attire.
Wonder Woman and Steve Trevor
Dress up as the Amazonian and her American love interest from the Wonder Woman franchise. With Wonder Woman in her red and blue costume and Steve in his military uniform.
The Joker and Harley Quinn
Transform into the chaotic and dysfunctional couple from the DC Comics universe. With The Joker in his green hair, purple suit, and red smile, and Harley in her red and black harlequin costume.
Which Couples Cosplay Idea Do You Like?
Couple cosplay lets couples bond while showing their creativity and enthusiasm. As a benefit, they get to show off their acting skills and elaborate costumes to like-minded others.
Couple cosplays may not only unite fans and cosplayers, but also serve as a source of inspiration and encouragement for others.
These cosplay ideas provide couples with a wide variety of options, ranging from traditional fairy tale characters to superhero teams and offbeat characters from well-known franchises. These innovative couple cosplay ideas may give you lots of room to express your personalities while giving you a chance to have a good time.
Remember that you cannot use your holiday attire as an excuse to avoid having meaningful interactions. Your partner's approval of a couple's costume may temporarily ease your worries about their sentiments. It's important to learn to communicate your concerns openly in any relationship you intend to keep.
Nervous or young couples are more likely to dress as a couple to avoid unwanted attention from others, or to ensure that their partner doesn't flirt with anybody else. Although more stable and stabler couples may choose to dress similarly, they are more likely to do it in a lighthearted way that adds to the tale of their relationship.
---
---
---
Read More: